26th Annual Golf Outing Fund Raising Event
May 15, 2019
Mark your calendar to join us for our primary fund raising event...and some great golf and prizes!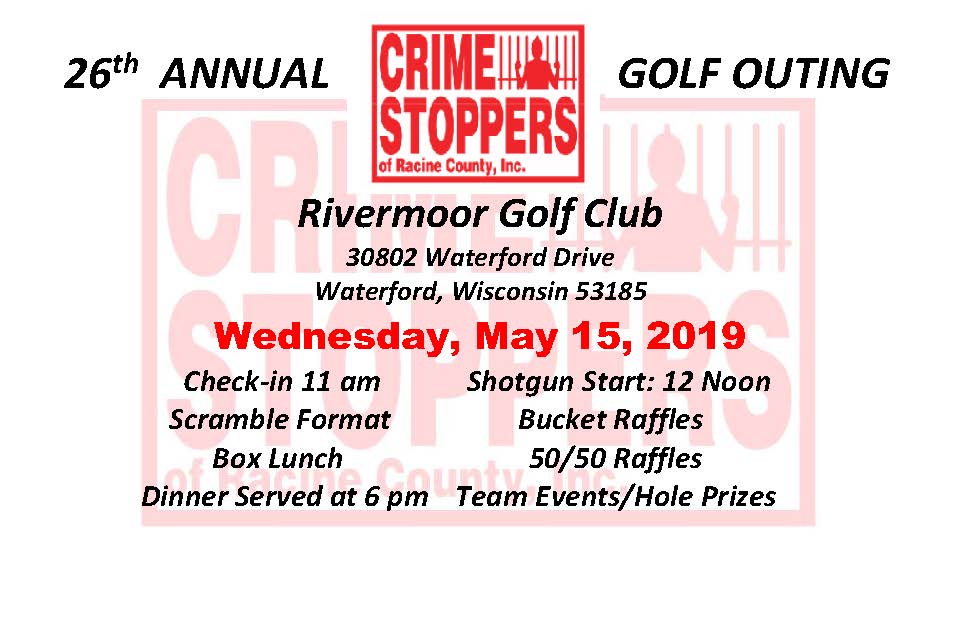 We are proud to announce our primary fund raising event, the 26th Annual Golf Outing event. This event is open to everyone which will take place on Wednesday, May 15th with a shotgun start at 12 noon.
At this time we need your support. Here are some ways you can help through our golf outing:
Our board of directors is an all-volunteer board made up of community and county members, as well as advisors from various Racine County Law Enforcement agencies. We work together to make Racine County a safer place to live and work. If you have any questions about the golf outing or arranging donations to be picked up, you may contact Scott at 262-672-4645. We would be glad to answer your questions.
To obtain golf registration forms or to participate as a sponsor, click on our News & Events page to print out the forms you need!
Crime Stoppers of Racine County, Inc. is a 501(c)(3) charitable organization and your donation is tax deductible to the fullest extent allowed by law.
Portion of Proceeds Support Crime Stoppers of Racine County Reward Fund
For Additional Information Contact:

Scott 262-672-4645
or
CSRC; PO Box 081245; Racine, WI 53408-1245
Click below for 2019 Golf Registration Form:
CSRC_2019_Golf_Registration_Form.pdf


Click below for 2019 Golf Sponsorship Form:
CSRC_2019_Golf_Sponsorship_Brochure.pdf
Click Below for the 2019 Golf Poster
---